Hire the Best Kitchen Fitters in London for a Perfectly Built Kitchen
"If you can organise your kitchen, you can organise your life." – Louis Parrish
Here you make yourself a cup of coffee every morning. You prepare meals for the family and perhaps enjoy them together. The kitchen is the heart of a home, not without a reason. Are you planning to give an amazing makeover to your kitchen? Looking for the best kitchen fitters in London? You need not look elsewhere when Barima Homecare Services is a call away!
We are the leading professionals for kitchen design and installation in London and surrounding areas. We possess extensive experience, expert skills and resources to have your kitchen fitted just the way you always imagined. From kitchen design and planning to installation and fitting, we breathe life into your old kitchen and offer a desirable transformation. Our team comprises highly qualified kitchen fitters who have the required experience and skills to turn your dream kitchen a reality. Whether you want to revamp your old kitchen, replace the countertop or add a new cupboard, we are the leading kitchen fitters who can extensively plan and design the kitchen just the way you wanted.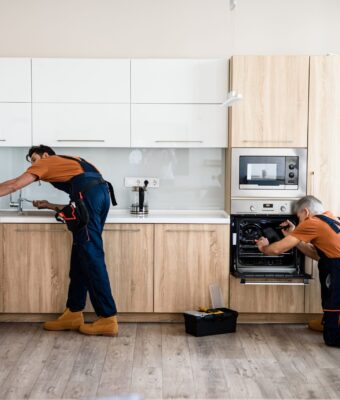 What Does Our Service for Kitchen Design and Installation in London Include?
Remodelling is the best way to add value to not only your kitchen but also your home. Abreast with all the latest ideas and designs, we create a modern fitted kitchen that enhances your everyday experience. At Barima Homecare Services, we are specialists in fitting kitchens and have executed kitchen design and installation in several homes across the city. We are the best kitchen fitters in London who specialize in:
Flooring installation
Plumbing
Mitre worktop joints
Appliance installation
Tiling
Painting & decorating
Electrics
Kitchen cabinet & cupboard installation
Resurfacing existing cabinets & cupboards
When you choose us as your kitchen fitters, you're assured to build a kitchen that's unique and exclusively designed to suit your requirements. With us as your specialists for kitchen design and installation in London, you can choose from a wide variety of worktop materials that includes quartz, marble, granite and more. Have a tight budget? No worries! We can suggest to you the best alternatives for worktop materials that display the luxurious look but at cost-effective rates.
Want to upgrade your kitchen to a smarter version? We can do that too! From adding LEDs and touchless faucets to installing smart sinks that operate on voice command, we have the perfect smart kitchen solution that enhances work efficiency and creates a modern and chic look.
Top Reasons Why We Are the Best Kitchen Fitters in London
Extensive experience
Best customer service guaranteed
Highly qualified & expert team
Transparent & competitive pricing
Premium quality service
Now, you know whom to contact when you're looking for the best kitchen fitters in London, don't you?
For more information, feel free to contact us today.
Balham
Bixton
Clapham
Croydon
Kennington
Streatham
Thornton Heath
Tooting
Sign up to our mailing list
And receive all the latest news and offers

Barima Homecare Services Ltd
52 Gonville Road
Thornton
Heath England
CR7 6DB